"It's a grand event that turns average car guys into local celebrities, as these classic cars make their way through small towns on their way across the country." 
This event starts at 5:00pm and is free to attend!
Great events don't happen by accident and they certainly don't happen in the blink of an eye. It takes a lot of work to develop, organize and run an intricate event such as The Great Race, and it took a lot of work behind the scenes to get it off the ground, when Tom McRae and Norman Miller did just that in 1983. The two individuals were partners in the deal, and bought out an ailing race promoter who planned to race pre-World War II automobiles across the United States for a massive purse. There were plenty of folks who doubted the feasibility of an event of this magnitude, but with help from a crew of like-minded car nuts, McRae and Miller made it work. From the inaugural event in '83, there have been lots of memorable moments.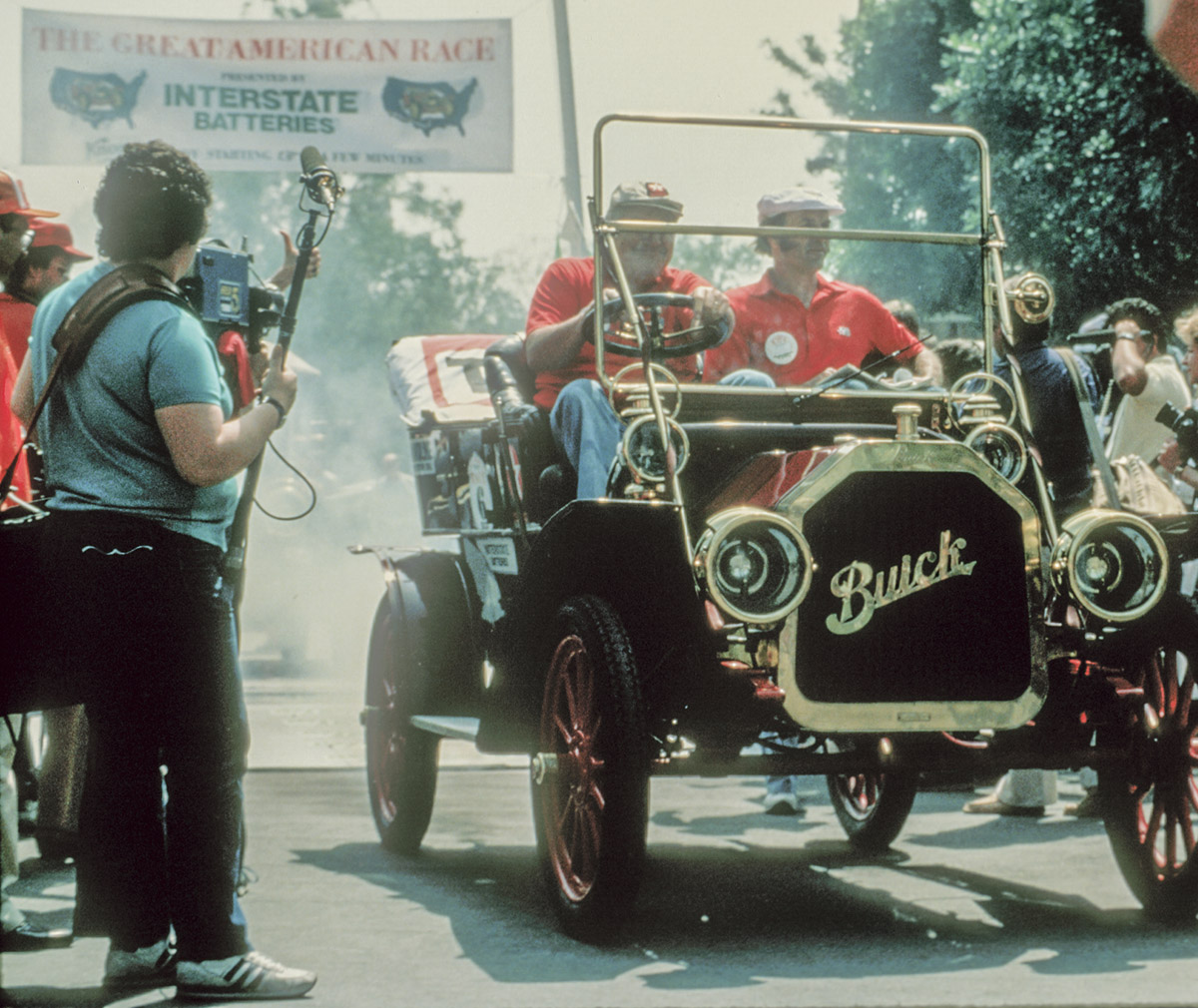 Looking back to the early 1980's, Tom McRae was an ordinary car guy, toying with his projects on a regular basis. But in late summer of 1982, his outlook on the old car hobby would change dramatically, thanks to a phone call from good friend and fellow enthusiast, Curtis Graf. With excitement in his voice, Graf told McRae about an event that would surely be one of the greatest marvels in automotive history. "It's something called the Great American Race from L.A. to Indy for $250,000 in prize money!" Graf explained. The most alluring part of the event was the fact that it was open only to pre-World War II vehicles, making it a grand challenge if it were to live up to the hype.
McRae and Graf signed up for the long-distance journey, but as it turns out, they were the only entrants. So, McRae contacted his old friend Norman "Bubba" Miller and pulled him into a partnership to buy out the original promoter. From there, it would be a long battle to stage the first event and market it well. The result involved 69 brave antique auto enthusiasts who arrived at Knott's Berry Farm, near Los Angeles, California for the departure and beginning of the inaugural Great Race. At that time, participants paid a $5,000 entry fee, which put them in the hunt for the $250,000 purse.
The racers traveled East toward a final destination of Indianapolis, Indiana, during what can only be called "500 Week". Hundreds of thousands of race fans swarm the Indianapolis area, which made the idea of driving these ancient machines into the heart of Indy a little unnerving, but McRae received help from Indy's 32-officer National Champion Motorcycle Drill Team. The Drill Team shutdown rush hour traffic to escort the 62 finishing racers into the Indianapolis Motor Speedway for a well-deserved victory lap, then into downtown Indianapolis, and to the host hotel. The next day, 16 racers were able to participate in the Indy Festival Parade, and the winner of the inaugural Great Race was treated to a special trip around the famous "Brickyard" in the passenger seat of the Indy 500 Pace Car, just moments before the start of the race.
With a successful first event under their belt, McRae and the Great Race crew began preparation for the 1984 event, which would be another California-to-Indiana trip. And as the years went by, McRae made sure to provide interesting routes for the participants, and made it family-oriented so that participants could enjoy time with their children or even grandchildren in many cases. In fact, the 1987 route went from Disneyland in Anaheim, California to Disneyworld in Orlando, Florida, so there was no shortage of Mickey Mouse ears on that trip. Generally, the routes traveled west to east, but sometimes McRae switched it up and went east to west, like the 1991 event, from Norfolk, Virginia to Seattle, Washington. McRae and crew also went north to south in 1995, traveling from Ottawa, Canada to Mexico City, Mexico!
No matter the route, Great Race participants viewed the most amazing scenery this country has to offer, and toured some of the coolest back roads to get there. These pre-World War II cars aren't exactly cut out for interstate driving, so the intricate routes were designed to suit antique cars and their capabilities, in terms of speed, and durability. Many racers have beaten the odds and walked away with a victory, but all of the participants have the enjoyment of viewing our great country alongside a close friend or family member. here are many family teams involved in the Great Race, including many husband and wife duos. And by the time you've made the trek across the United States of America, you're bound to have made a few new friends along the way.
There's no question that the camaraderie among Great Race participants is the most incredible aspect of the event. No matter your background, culture or chosen race vehicle, the playing field is totally equal when you consider the reason all these racers come together. It's all about spending time with like-minded folks, and getting to know one another in a grand journey across our United States. Ordinary car guys are treated as celebrities and heroes, signing autographs and answering countless questions from people who greatly admire their efforts in this wonderful race.
Many participants make big sacrifices to compete in the Great Race, and just about every participant schedules their lives around the Great Race. It isn't simply a weekend affair, so plans are made well in advance to attend and participate. Some folks literally put their lives on hold to participate in the Great Race, and it's this kind of dedication that has made the Great Race such an awesome event. McRae founded the race on the basis of honoring families, our great country and most importantly, God, for making all things possible. McRae believed it was extremely important to say a prayer in public in every city to bless the participants and everyone involved with the event, as praising the Lord was a staple in his operation, and his unique way of spreading the Gospel. And though McRae is no longer with us, his vision for the event and his love for old cars still lives on through the continuation of the Great Race.